When your partner is snoring or your upstairs neighbor chooses to change the furniture in the middle of the night, it can be nearly impossible to fall asleep. Noise not only wakes you up, but it can also influence the quality of your sleep while you're in bed. So as part of your ideal bedroom arrangement, it's a good idea to include some method of reducing annoying noises.
White noise can be used to reduce the influence of outside noise in the bedroom if you can't guarantee a perfectly calm atmosphere. An air conditioner, falling rain, or breaking waves can all produce white noise, which was originally used to describe a sound's staticky noise that encompasses all the frequencies. Constantly listening to a calming music can assist many people get to sleep and decrease the effects of unexpected disturbances.
There are many smartphone apps that give a variety of sleep-inducing background sounds for individuals who don't want to buy a white noise machine. We'll take a look at five of the greatest white noise apps currently available.
Sleep Sounds by Sleep Pillow
To help you get to sleep, the Sleep Sounds by Sleep Pillow app features a choice of calming soundscapes. The app's UI is clean and uncluttered, and each sound effect has its own unique icon. Unless you stop it, the sound will continue to play after you tap the image. Timer options range from one minute to an hour and fifteen minutes, and can be configured to cut off the sound when the timer expires. You may listen to the noises even if the app is minimized because they continue to play when the app is dismissed.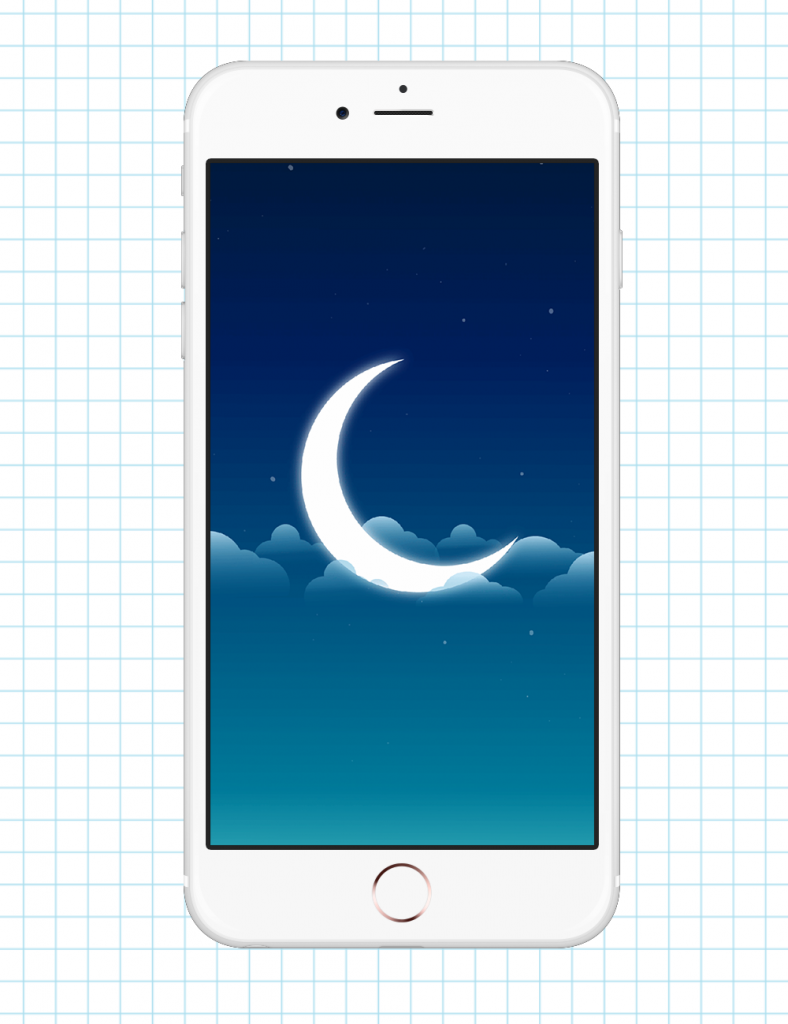 These sound selections are included in Sleep Pillow's free version:
Rain
Ocean waves
Lightning, rain, and wind mix
Bird and frog sounds
Whale sounds
Crackling fireplace
Ticking metronome
Instrumental lullaby
The sounds of rain, ocean waves, and a crackling fire were the most soothing to me. Realistic sounding and I couldn't tell if it was a loop or not. It was intriguing to hear the bird and frog noises, but I don't think they would help me sleep at night. Of course, there are many who would argue otherwise.
With the app, you may also make your own custom blend of sounds. Up to three separate sounds can be combined in a single mix. You can alter the volume levels of each component of your mix, then store the mix to listen to at a later date.. You can only save one mix in the app's free edition, but if you upgrade, you'll be able to save an endless number of mixes.
Multiple upgrade options are available for Sleep Sounds by Sleep Pillow. Sound packs are needed to expand your sound selections when you update. Premium features, such as an alarm clock, extended sleep timer options, unlimited mixes, and the removal of advertisements, are included with every upgrade.
The following sound packages, each of which costs between $10 and $20, are available as an upgrade from Sleep Sounds by Sleep Pillow:
Varied (65 sounds from a variety of categories)
Water (33 sounds)
Positive Affirmations (37 sounds)
Nature & Animals (27 sounds)
Winds & Fire (18 sounds)
Baby (14 sounds)
Morning (10 sounds)
Melodies (24 sounds)
Chillout (24 sounds)
Urban & Vehicles (18 sounds)
Binaural Beats (25 sounds)
A single payment will get you access to all 280 sounds. All sounds are listed at $126, but if you buy all of them, you get a discount.
For the time being, Android users cannot download Sleep Sounds by Sleep Pillow from the Apple App Store for free.
White Noise
The noises produced by the White Noise app cover a wide range of pitch and volume. It has three versions that allow for continuous looping of audio without the need for a network connection.
Among the many sounds available in the library are:
rain and water sounds in a variety of forms.
noises made by various household appliances, such as those made by a vacuum cleaner and an air conditioner.
Outside noises include crickets, frogs, the Amazon rainforest, a bonfire, a thunderstorm, and the wind.
White, violet, blue, pink, and brown noise are just a few of the many sound color options.
Sound effects from flights, autos, trains, and city streets are all included in this collection of travel-related audio.
soundscapes that include various animal noises and instruments like a grandfather clock and Tibetan singing bowls as well as human heartbeats.
The White Noise Market offers further free sound downloads.
Lite
Included in the Lite edition are:
In order for customers to use other apps while listening to a MixPad editor, it provides background audio support.
Full-screen digital clock with a variety of colors and brightness adjustments.
A timer and five alarms with gradual fading
A "favorites" section where you can store your most often used sound clips.
It's a bonus to be able to stream music from an AirPlay-enabled device to Bluetooth-enable
Availability:
iPhone/iPad and Apple TV
Android
Amazon (Android version)
Full
The following features are included in the full version in addition to those found in White Noise Lite:
Full stereo playback of 40 different sounds.
There are a total of twenty distinct alarms.
Changing the buffer size to get the best possible playback.
loudness, balance, and pitch can all be adjusted.
LED clock with digital display.
configurable snooze times for the alarm.
There will be no advertisements.
Availability:
iPhone/iPad, including Apple Watch and Apple TV
Android, including Android TV and Widget
Amazon (Android version)
Pro
There are a few extras that you'll get if you upgrade to the Pro version:
Soundscapes of the highest quality.
creating bespoke binaural and color tones with the help of high-quality audio production software.
20 alarm tones that fade in and out.
Availability:
iPhone/iPad, including Apple Watch and Apple TV
Android, including Android TV and Widget
Amazon (Android version)
White Noise by TMSoft
Price: Free / $0.99
One of the best white noise generators on the market is TMSoft's White Noise. There are a total of 40 sounds included. Nature noises, oscillating fans, and even brown/pink/white noise are all included. In addition to Chromecast support, the app performs a great job of looping audio and can be used on your TV. Aside from that, the app provides a few basic features such as alarms, timers, and advanced settings. The free edition includes advertising, which is removed in the premium version. Overall, it's good.
White Noise Deep Sleep Sounds
The sound of silence Light or dark modes are offered for the user-friendly interface of Deep Sleep Sounds. Ambient sleep sounds fall into several categories, such as:
Mechanical sounds
Colored noises
Rain
Thunder
Water
Birds
Animals
Nature
Fire
ASMR
Baby
There are many free noises, and the free account lets you combine two sounds together and set a timer for as long as you wish. While you're using other apps, the music continues to play.
Removing banner advertisements and gaining access to all 60 premium sounds is only possible with a paid full account upgrade. In addition, the premium app allows you to make more mixes and add an extra-long fade-out of up to an hour, which is ideal for falling asleep to.
If you want to create a unique soundscape, you'll need to upgrade to a paid account because the free one only allows you to mix two sounds. An annual subscription, which costs $50 on Android and $40 on Apple devices, comes with a seven-day free trial. There are also charges for monthly and weekly use.
Some of the free noises felt like they looped every ten seconds or so, which made them sound less natural in my perspective. Despite this, I enjoyed some of the free sounds, such as the plastic bag and the purring of the cat. Womb sounds were what put me to sleep, surprising me.
Apps for iOS, Apple TV, and Android are available for White Noise Deep Sleep Sounds
Headspace
Headspace is mostly a meditation software, but it also includes a wide range of relaxing sounds to aid in sleep. In the absence of any other choices, you can check out Headspace for up to a week or two before committing to the full subscription. Using the meditation tools is included in the subscription price of $13 per month or $70 per year.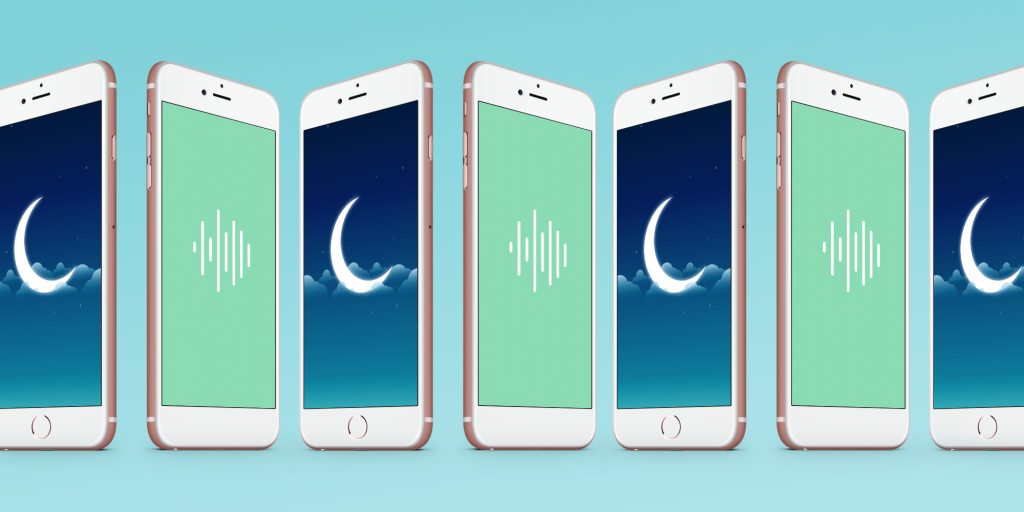 Relaxing music, guided meditation, and ambient sounds are all included in the sleep category. Choose from the Soundscapes, Sleepcasts, or Sleep Radio menu items to hear relaxing white noise. More than 40 Soundscapes are available from Headspace, which are divided into six broad categories:
Waterways
From the Jungle
From the Forest
Fireside
Snow Days
In Motion
When listening to the Soundscapes, it feels more like you're in the middle of a story and less like you're listening to the same thing over and over again. As a fan of the "in motion" selections, I really like the sound effects of boat engines, laundry machines, and random traffic sounds. Soundscapes can be purchased in 45-minute or 500-minute lengths. The Soundscapes can also be downloaded, however the files are extremely huge, around 800 MB. You can't layer sounds in Headspace like you can in other apps.
Headspace's Sleepcasts category features guided imagery to help you go off to sleep, but if you'd like to just listen to the background noise, you can disable the narration. Many unique Sleepcasts, such as "Raindrop Soaps," "Vineyard Sunset,'" and "Pooch Palace," are available. A few years ago, I started using Sleepcasts as a way to put myself in another location when my mind was racing. Most people can fall asleep within 45 minutes of listening to a sleepcast.
With no narration, Ocean Time is the final option in the genre of Sleep Radio.
There is a sleep section with darker hues and beautiful doodles in Headspace's interface. The fact that you have to select each sound and then press "start" and "play" is a minor quibble, but it irked me. Headspace can't run in the background while you use other programs, and the sounds take a few seconds to buffer at first. The inability to use other apps, on the other hand, serves as an incentive to put your phone down and get some shut-eye.
Android, iOS, and the Apple Watch all have access to Headspace's features.
BetterSleep
The Relax Melodies sleep app, formerly known as BetterSleep, has a slew of tools to help you get a better night's sleep. In the library, you'll find more than 200 calming sounds broken down into the following categories:
ASMR
Animal
Baby
Brainwave
City
Nature
Sci-fi
Solfeggio
Spoken
Water
White Noise
Melodies
Only seven noises are included in the official white noise section: white, brown, pink, and green noise, as well as air conditioner, spacecraft, and airplane sounds. There are additional options for ambient sounds in the ocean, environment, city, and animal sectors, such as strong rain or wind, which can help mask out road noises. Pre-made mixes can be downloaded through the app as well. You can feel like you're underwater with "Immersed" and "Toskana," which take you to a peaceful woodland.
When you click on a sound tile, it is instantaneously added to your playing mix. A few of the other white noise applications I've tried have had better sound quality, but this one is easy to use and allows you to overlay your own sounds to create a completely unique soundtrack. Adjust the loudness of each individual sound and save your mix to use it again the next night if you'd prefer one sound to stand out.
BetterSleep includes a low-light interface, so using it in bed won't wake you up. While using other apps, the sleep noises play in the background, and you can set them to play on a timer to gradually fade out as you go off to sleep.
Only a quarter of the sounds are available in the BetterSleep's free version at this time. Unless you've got your heart set on a particular sound, or if you find the advertising unpleasant, you may opt to purchase the complete edition of the software. An annual membership to BetterSleep costs $60 for Android and Apple devices after a seven-day free trial period.
Android, iOS, Apple Watch, and Apple TV all have BetterSleep.
myNoise
Using the myNoise app, you may choose between natural white noise and noises that have been specifically tuned. By measuring and adapting a sound to the individual's hearing levels, this system's unique calibration procedure is possible. As a result, even at lower volume levels, sound can be disguised more effectively.
White, pink, and gray are just a few examples of the many various noise colors that can be made.
Over 200 background noises and interactive soundscapes can be found on myNoise.com. ' The following are a few examples of relaxing sounds:
rain on a tent
natural waterfall
distant thunder
fireplace
fan noise
sleeping dragon
In addition to white noise, myNoise offers a free edition that contains rain noise, binaural beats and spring walk sounds as well as temple bells. The app also features a sleep timer and an alarm to help you get out of bed at the right moment.
An All You Can Hear Bundle, which includes all generators, including future ones, is available for purchase in the app.
Availability:
iPhone/iPad with family sharing
Android
Alexa devices
Website
Video tutorials
Relax Melodies: Sleep Sounds
Sleep Sounds: Relax Melodies is a collection of more than 100 calming sounds that are designed to help people go asleep. These elements can be used to create unique soundscapes by the listener.
In the sound library you'll find:
wind, rustling leaves, birds, and a crackling fire are all examples of nature noises.
White noise, such as the sound of a hairdryer, an airplane, a vacuum cleaner, or a fan.
sounds of water, such as rainstorms, the ocean, and lapping water.
Instrumental, vocal, and ambient pieces for quiet reflection.
A bedtime reminder, a timer, and an area for storing users' favorite mixes round out the package. Also included are guided visualizations, breathing exercises, binaural beats, and stories for bedtime.
Availability:
iPhone/iPad, including Apple Watch and Apple TV
Android
Amazon (Android version)
Atmosphere: Relaxing Sounds
Nature and man-made noises are all available in this app. It categorizes the sounds into many settings, such as:
beach
forest
city
home
underwater
park
countryside
East Asia
instrumental
People can also mix and match sounds from any place and import their own to create their own unique blends. Each sound's volume can be customized as well.
Offline functionality and a sleep timer are both included in Atmosphere. Binaural beats and isochronic tones are also included.
Availability:
iPhone/iPad with family sharing
Android
Amazon (Android version)
Rain Rain Sleep Sounds
This program allows users to blend over 40 free high definition sounds to create their own white noise.
The following are some of the sound options:
a wide range of precipitation types
a roaring fire in the hearth.
a snoring feline
a Shih Tzu snoring loudly
All three appliances make noise when they're running.
Cars, trains, and planes are all included in this category.
The following are included in the unrestricted version:
a sleep timer with a gradual fade-out that remembers a user's choices and starts the next time they open the app.
a gentle nudge in the right direction.
Sound loudness and speed can be controlled by use of an oscillator.
mixing device that enables the user to control the level of many sounds simultaneously.
To make each sound more subtle, there's a "soften" option.
There will be no audio or visual advertisements.
AirPlay and Bluetooth devices, as well as background audio, are all fully supported.
a way to save "favorites."
There is no need for a network to use this software. It's also possible to listen to any premium sound without signing up.
More than 60 new sounds are included in Rain Rain Premium, which is free of advertisements as well. It comes with a free one-week trial after you sign up for it.
Availability:
iPhone/iPad, with Apple TV and family sharing
Android
Amazon
Dark Noise
$3.99, available for iOS
This white noise software has roughly 40 sounds to choose from, as well as a plethora of customizable possibilities! The app's appearance and icon can be changed, and a custom widget can be created for even faster playback.
The software was praised by an editor at MacStories for its beautiful graphics and pleasant noises. It's great that it's compatible with the iPad, too.
You can use Siri shortcuts to play different noises or transfer playing from one device to the other with Dark Noise's iOS integration, which helps it stand out from a swarm of white noise apps.
A rain sound can be played on your smart speaker in your bedroom when you're lying in bed reading a book and you'll be able to transfer the music there in a matter of seconds.
Noisli
$1.99, available for iOS and Android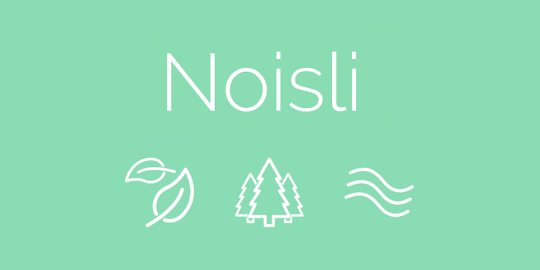 There is no free version of Noisli, which is a rarity in the audio app world. Although we believe this app is well worth the price. We found it to be the most user-friendly of all the apps we examined. Simple symbols on a solid background with subtle color shifts create a zen-like atmosphere.
Set a timer, make a combo, and play one or more sounds at a time. Rain, thunderstorms, wind, forest, streams, campfires, crickets, trains, and coffee shops are just a few of the many sound effects available. White, pink, and brown noises are also available if you like less complex sounds.
White Noise Generator — Best for Saving Custom Mixes
Download: Android
It's an excellent alternative for people who want to use white noise for sleep and focus. An extensive collection of HD sounds is included, as are many of the other features you'd expect from a white noise software. Rain, automobiles, thunder, and even white noise, brown noise, and trains are all options. Custom mixes are one of the app's best features, and may be saved for future use. For example, you may label your sound files "concentration," "sleep," "drive," or some other variation thereof. You can customize playback with the 'Quick Timer' option, and the app keeps data on your most-used sounds.
Notable features:
Free version available
Subscription plan: $2.99/month or $24.99/year
Support available: Email
White Noise Ambience Lite — Best for Alarms
Download: Android | iOS
There are 76 free calming sounds included in White Noise Ambience Lite, as well as over 50 premium sounds available for $2.99 per month via the Premium subscription. Individual sounds can be amplified or lowered in loudness as well as saved as favorites. Users can even create their own playlists. Users can browse other apps while listening to their custom sounds with the app's background listening feature. This app's digital clock is one of its most distinctive features. Colors can be changed and the light can be dimmed. Alarms can also be set.
Notable features:
Free version available
Subscription plans: Premium: $2.99/month
Support available: Email, FAQs
Sleep Aid Fan — Best for Fan Sounds
Download: Android | iOS
Use Sleep Aid Fan for those who want to sleep to the sound of an electric fan. A playback timer and three high-quality fan sounds are included for free in the app. One-time purchase of $1.99 will give you access to five new fan noises, the opportunity to remember your favorites, and ad-free use of the Sleep Aid Fan. Allows you to modify volume and change noises from the lock screen without having to open up your phone.
Notable features:
Free version available
In-app purchases: $0.99 to $1.99 per item
Support available: Email, Contact Form
How do white noise apps work?
Using a set frequency and tone that is equally dispersed across the whole hearing range, white noise serves as a sound masking technique for many purposes. The idea behind white noise apps is to drown out distracting sounds with a soothing background soundtrack.
Insomnia affects over a third of the world's population.
Using filtered white noise may improve a person's quality of sleep by increasing the hearing threshold. Background noise is less likely to be heard while white noise is playing.
Some of the noises that can keep you awake include:
The sound of slamming doors.
coughing or snoring loudly.
noises made by animals
Traffic and sirens can be heard.
The sound of creaking planks underfoot.
A hotel ice machine or an elevator door are examples.
discussions or hilarity.
drips of water.
Using white noise apps can help a person fall asleep more quickly and keep them asleep for longer periods of time.
The color options in many of these apps range from pink to blue to brown, for example. Each color has a distinct frequency range associated with it. Trustworthy.
Some of the most effective white noise sleep aids are highlighted in the following sections.
How We Chose the Best White Noise Apps
Many of the most effective white noise applications allow users to personalize their noises and music to meet their own requirements by offering many of the same basic functions. The following features were considered in the selection process: sounds for sleep, attention and concentration, and personalized sound mixing.
Choose the white noise app that's right for you
It's impossible to go wrong with any of the applications on our list, since they all offer many of the same essential functions and a wide range of free sounds to pick from. It's best to try out a few different applications until you find one that has the sounds and other features you're looking for. To get a better idea of how these apps work, check out user reviews.
Create your own sounds
Rather than relying on pre-made sound mixes, these apps allow you to create your own custom soundscapes, which you can then share with friends and family. There are a variety of apps out there that allow you to mix and match different types of noise and frequencies to create your own unique soundscape.