When looking for a mattress to alleviate pressure points, many sleepers are forced to choose between a foam mattress and a hybrid mattress. Both DreamCloud and Puffy are well-known online retailers of pressure-relieving mattresses made with memory foam. Both DreamCloud and Puffy offer sheets, foundations, and pillows in addition to mattresses. When picking between these two mattress manufacturers, it is crucial for consumers to consider their own personal preferences and demands.
In terms of motion isolation, Puffy's foam mattresses are the best. The Puffy, Puffy Lux, and Puffy Royal are the company's three foam models. Each of the three mattresses has a different price point, but they all have pressure relief and close contoured layers of unique foam. All-foam mattresses like Puffy's Lux Hybrid and Royal Hybrid are also available in a hybrid form, with a support core that includes pocketed coils.
The DreamCloud and the DreamCloud Premier are the two mattresses offered by DreamCloud. Memory foam comfort layers and pocketed coil support cores are found in both versions. There is an excellent mix between responsiveness and pressure relief, as well as exceptional temperature control thanks to their coil systems. Buyers can test DreamCloud mattresses for a full year before making a purchase decision.
A mattress from DreamCloud or Puffy is a solid purchase because both companies provide hefty lifetime warranties.
We'll assist customers in determining which mattress is ideal for them. We'll take a look at each company's models, as well as the pricing, dimensions, and construction of each one. In addition to performance ratings and customer reviews, we'll also present these information to help customers make an informed decision. Finally, we'll go over each companies' policies on shipping, returns, and warranties.
DreamCloud vs. Puffy Mattress Overview
DreamCloud was started in 2018. The DreamCloud Luxury Hybrid Mattress, often known as the DreamCloud, is the company's original bed. Gel-infused memory foam, quilted memory foam, natural latex, and a conventional memory foam layer make up the mattress's comfort layers. A transitional layer of memory foam, pocketed coils enclosed in high-density foam, and a base of high-density memory foam make up its support core. Tufted cashmere covers the DreamCloud's Euro-top. The mattress has a 15-inch thick top and bottom layers. It's a 6.5 on the 1-10 firmness scale, making it a medium-firm mattress.
Puffy was established in 2016 and now produces two mattresses. The Puffy is a three-layer foam mattress that has become the industry standard. Sleepers prefer to feel like they are sleeping "in" the mattress rather than "on" it since the bottom layer provides firm support while still conforming to their bodies. Comfort foam fills the center layer. Temperature-adaptive foam in the upper layer prevents overheating or underheating of the mattress. It's a medium-firm mattress with a 10″ thick top layer. The Puffy is rated a 5 on the 1-10 firmness scale.
Please keep in mind that Puffy has a second mattress in addition to this one. For pressure point alleviation and added support, the Puffy Lux mattresses have all three layers of the original Puffy mattress as well as a fourth layer of contouring foam.
In this article, we'll examine the differences between the DreamCloud and the original Puffy mattresses. Firmness, layer composition and sleep trial time all differ significantly between the two mattresses, despite the fact that they both include layers of foam construction. Both beds will be compared in terms of price, quality, and overall performance in this guide. Both brands' shipping, return, and warranty policies will also be covered in this agreement.
Sizing Options
Customers who purchase a new mattress may upgrade to a greater mattress size as an option. Several people downsize in order to better fit their living quarters. The size and arrangement of a bedroom should be taken into consideration while deciding on a mattress size. Mattresses come in six main sizes: twin, twin XL, full, queen, king, and California king, which are the most popular.
Consider the weight of the mattress in addition to its length and width. A mattress in a box is a common term for a mattress that is compressed and vacuum-sealed for shipping. Although the compressed mattress may be easier to move into the bedroom than a fully expanded mattress would be, it is still likely to be heavy. If you have to move frequently, you might want to choose a mattress that is lighter. With a heavy mattress, you'll find it tough to adjust or rotate it on your own without help.
If the mattress is too low, getting in and out of bed is difficult. For people with aching joints, a bed that is either too high or too low can be a problem. Ten to twelve inches is the typical height of a mattress. Deep-pocket fitted sheets are commonly required for mattresses with a profile of more than 12 inches.
DreamCloud
DreamCloud Mattress
Height: 14″
Size Options: Twin, Twin XL, Full, Queen, King, California King
DreamCloud Premier
Height: 14″
Size Options: Twin, Twin XL, Full, Queen, King, California King
Puffy
Puffy Mattress
Height: 10″
Size Options: Twin, Twin XL, Full, Queen, King, California King
Puffy Lux
Height: 12″
Size Options: Twin, Twin XL, Full, Queen, King, California King
Puffy Royal
Height: 14″
Size Options: Twin, Twin XL, Full, Queen, King, California King
Puffy Lux Hybrid
Height: 12″
Size Options: Twin, Twin XL, Full, Queen, King, California King
Puffy Royal Hybrid
Height: 14″
Size Options: Twin, Twin XL, Full, Queen, King, California King
Each model of Puffy and DreamCloud is available in all six common mattress sizes. There are two hybrid mattresses from DreamCloud and three all-foam variants from Puffy.
Mattress firms typically provide a wide variety of sizes and models to fit the needs of their customers. This covers those who are shopping for alone, as a couple, or as a family with children. It's possible to find a solution for both large and small places thanks to the variety of sizes available.
Mattresses can also come in a variety of heights, from low to high. People who desire a high-profile bed might choose the DreamCloud, DreamCloud Premier, Puffy Royal, and Puffy Royal Hybrid. To be classified as a standard height is to have a height of 8.5 inches.
In addition, buyers should know that a queen-sized DreamCloud weighs between 85 and 106 pounds. Although the Puffy Lux Hybrid and the Puffy Royal Hybrid are slightly lighter, they still fall within the 85-95 pound range for a queen size. Puffy's all-foam mattresses are ideal for those looking for a lightweight mattress.
Construction and Materials Comparison
When looking for a new mattress, it's critical to know what materials it's constructed of and how that affects its overall quality. In most cases, mattresses are made of foam, latex, or a combination of the three.
Polyfoam and/or memory foam mattresses have numerous layers. Strong pressure alleviation is provided by the memory foam's close conformation. While memory foam is known for retaining heat, certain kinds have gel, copper, or graphite incorporated into the foam to counteract this. The long-term durability of foam is frequently influenced by its density. While low-density foam is prone to developing deep impressions over time, higher density foam is more likely to last the test of time.
There are three types of latex used in latex mattresses: natural, synthetic, and blended. Dunlop or Talalay methods are used to treat rubber tree sap to extract natural latex. Breathable and long-lasting. In addition to its extended lifespan and steady support, latex is noted for its versatility.
A pocketed coil support core is included into a foam or latex mattress to create a hybrid mattress. As a result, this provides a combination of conforming pressure alleviation and total-body support. For a hybrid mattress, the density and composition of the comfort layers can have an impact on the mattress's overall durability.
To better understand the DreamCloud Luxury Hybrid, the DreamCloud Premier, the Puffy and Puffy Lux Hybrids (as well as the Puffy Royal Hybrid), we'll take a closer look at their construction.
DreamCloud
The flagship DreamCloud mattress and the more recent DreamCloud Premier are the only two models in the company's current lineup. Despite the fact that their designs are similar, there are a few key distinctions to be aware of.
DreamCloud
On the 1-10 firmness scale, the DreamCloud mattress is a medium firmness (6). With a moderate amount of contouring and pressure relief, this mattress also provides a good deal of bounce for easy movement. Mattresses with a firmer feel are best for people who weigh 130 pounds or more, but those who weigh less may find them excessively firm.
Gel-infused memory foam fills the DreamCloud's Eurotop layer, which is followed by a memory foam comfort layer. As a result, these layers are designed to alleviate pressure areas in the shoulders and hips.
Transitional polyfoam is sandwiched between the comfort layer and the base layer. Additional support is provided by this component, which helps to keep the body of the sleeper from sinking too far into the mattress.
Individually encased coils and a layer of high-density foundation foam make up the DreamCloud's support core. It is easier for sleepers to move around and switch positions on a spring mattress because of the springs' bounce. The mattress's coils also help to disperse body heat by allowing air to flow freely throughout the mattress.
Hand-tufted cashmere blend covers the DreamCloud mattress. The wicking properties of this fabric help to keep the wearer cool and dry. The DreamCloud is a total of 14 inches in height.
DreamCloud Premier
A hybrid model, the DreamCloud Premier, is available as well. This mattress, like the DreamCloud, has a medium-firm (6) feel.
Memory foam padding has been added to the DreamCloud Premier's Euro-top, which provides a plusher surface for sleepers who seek deeper contouring and body hugging.
DreamCloud Premier has the same components as the DreamCloud, including a gel-infused memory foam layer, a transitional layer, and a pocketed coil support core, other from the variation in the firmness level. When it comes to pressure relief, motion isolation and temperature neutrality, both mattresses do a great job.
Puffy
Each of Puffy's mattresses is made with a unique blend of foams. Additionally, there are the Lux Hybrid and Royal Hybrid versions of all-foam mattresses in the Puffy collection. The "Zip-n-Wash" cover on each mattress can be removed for cleaning.
The Puffy
The original Puffy mattress features a 10-inch height and a medium (5) firmness level. There are three Puffy mattresses, and this one is the least expensive.
Stain-resistant polyester fabric covers a 2-inch gel-infused memory foam comfort layer that provides additional support for the mattress. This "CloudComfort" layer cools the body by drawing heat away from it. Memory foam is known for its ability to mold to the shape of a person's body and alleviate pressure points. Helps prevent motion transfer with this layer.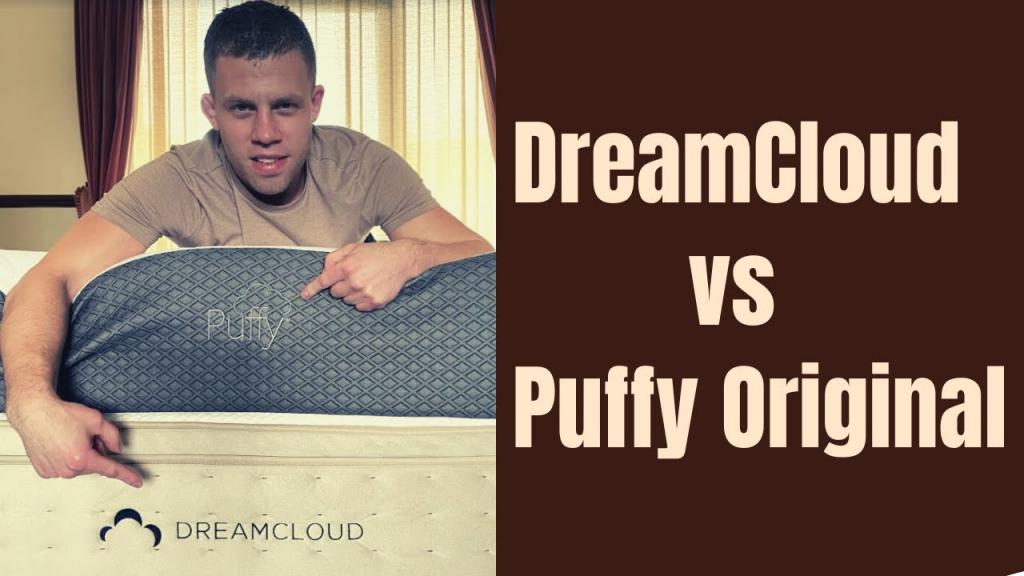 "ClimateComfort" polyfoam is the transitional layer of the Puffy mattress. This layer acts as a thermostat. The ClimateComfort foam, on the other hand, does not expand or contract with temperature changes. To avoid sinking into support, this layer acts as a barrier.
In order to keep the spine straight, the Puffy's six-inch core support foam provides full-body support.
The Puffy Lux
In comparison to other 12-inch foam mattresses, the firmness of the Puffy Lux is a medium five out of 10. This is Puffy's middle-of-the-road model.
Gel-infused CloudComfort foam is the foundation of the Puffy Lux's comfort mechanism. To keep the mattress from overheating, this thermal conductive layer is used. This mattress, like the original Puffy, adapts to the body to relieve pressure and isolate movement.
Additional contouring and reduced pressure spots are provided by a 1.5-inch Plush Dual Cloud polyfoam layer in the Puffy Lux mattress
An additional 2-inch layer of ClimateComfort polyfoam helps regulate the temperature of the mattress. When it's hot outside, this layer helps keep the mattress comfortable.
7 inches of polyfoam make up the Lux's support core, which relieves pressure and maintains proper spinal alignment.
The Puffy Lux Hybrid
Comfort layer structure is identical between the Lux Hybrid and the all-foam Lux. Plush Dual Cloud polyfoam and Climate Comfort foam make up the hybrid's second and third layers, respectively, while the uppermost layer is 1.5 inches of Cooling Cloud memory foam. As a result of the Lux Hybrid's medium (5) feel, sleepers will experience a close-to-the-body conforming experience.
As a result of the support core's pocketed coils, the Lux Hybrid is more responsive than the all-foam version. When getting in and out of bed, owners will notice less sinkage around the edges thanks to the coils, which also aid in keeping the mattress cool at night. Because of these features, the Lux Hybrid is a good choice for those who prefer the cushioning and even contouring of the original Lux, but also want a mattress that is more secure around the perimeter or that sleeps cooler.
Customers should be aware that the Lux and Lux Hybrid are priced the same way across all sizes.
The Puffy Royal
One of the most costly all-foam mattresses from Puffy. Fitted sheets are likely to be required because of its 14-inch height. Unlike the Lux and the original Puffy, the Royal features many foam layers and a medium (5) firmness level.
Cooling gel beads infuse the Puffy Royal's comfort layer, which is 1.5 inches thick. Sleeping overheated can be avoided with the use of the beads, which help remove any excess heat.
Added pressure relief and close contouring are provided by a 2-inch layer of polyfoam that is only found in the Royal mattress. Cooling polyfoam is used in the third layer of the mattress. This layer enhances the mattress's ventilation.
Customized cushioning is provided by the fourth layer of foam. To support the spine, this layer is softer at the top and stiffer at the bottom. While reducing pain spots, zoning aids in maintaining proper spinal alignment.
The durability of the mattress is enhanced by the use of a polyfoam support core.
The Puffy Royal Hybrid
Aside from their support core construction, both the Royal and its hybrid counterpart are almost identical to Lux and Lux models. After a 1.5-inch gel-infused memory foam layer, the Royal Hybrid mattress has a second 1.5-inch layer of memory foam.
The Royal Hybrid mattress features a third layer of Climate Comfort foam that regulates temperature to keep the sleeper cool. In order to reduce sinkage around the torso and hips, the fourth layer of foam is zoned.
Pocketed coils are sandwiched between two layers of dense foam in the support core. As a result of the coils' firm support and air circulation, the mattress yet feels soft and alleviates pressure well. Many rival hybrids, on the other hand, are firmer and less effective in relieving pressure.
In-Depth Ratings
You need to keep these things in mind while you seek for a new mattress. Shoppers will want to make sure the mattress they purchase lasts for a long time.
The demands and considerations of each shopper are distinct. Sharing a bed necessitates a mattress that can effectively isolate movement. Mattresses that are permeable and regulate temperature may be the most important consideration for those who sleep hot. Understanding and prioritizing the following mattress attributes can help consumers limit down their options.
Durability: The mattress's longevity is determined by its ability to maintain a consistent level of support for sleepers over time. The quality and content of the materials used, as well as the general construction of the mattress, can have a significant impact on this. Due to the lower density of low-density synthetic foam, it may not last as long as a high-density foam. Wool and latex, for example, are long-lasting materials. A robust mattress can last up to ten years longer than the usual one. The normal lifespan of a mattress is six to eight years. When shopping for a mattress, those who don't want to replace it every few years should opt for one with a high rating for durability.
It is called motion isolation when the mattress absorbs and blocks out the movement of the sleeper, preventing it from being sensed in other parts of the bed. Memory foam distinguishes out in this category because it responds to pressure and gradually returns to its original shape. Moving on a mattress with a lot of bounce might cause it to transfer motion. Motion isolation is a crucial feature for couples and people who share a bed with children or pets since it prevents sleep interruptions.
An easy-to-change-position mattress with enough bounce is ideal for intercourse. Mattresses that are softer and more fitting might stifle mobility and make people feel like they're locked in the bed. Couples can have sex on the entire mattress thanks to sturdy edge support. Couples who like a quiet choice may choose for a foam mattress, which is normally silent when it comes to absorbing the weight of one individual.
Temperature Neutrality: A mattress that is able to maintain a consistent temperature for sleepers is likely to be more comfortable. Retaining heat and constricting airflow around the body is an issue with some materials, such as memory foam. Some foams are impregnated with thermally conductive elements like graphite or gel in order to reduce heat retention. Latex and coils can assist dissipate heat by allowing air to circulate throughout the mattress. Mattresses with cooling properties may be a good option for hot sleepers and those who live in hot areas.
The hardness and comfort layers of a mattress can have a significant impact on how well it alleviates stress and strain on the body. Memory foam cushions the shoulders, hips, and back, where pressure is most likely to accumulate, by conforming to the shape of the body. There is a risk of developing pressure points in these regions if the mattress is overly hard. A mattress that is overly soft may not be able to provide adequate support for the back. Those who sleep on their sides or have a lot of pressure points should seek for a mattress with a lot of contouring.
When a mattress is unwrapped for the first time, it emits an off-gassing stench. As the mattress dries out, the stink will dissipate. Toxic VOCs (volatile organic compounds) are released when mattresses constructed of foam are unwrapped. Those who are sensitive to scents may find this to be irritating. Mattresses made of natural materials are less likely to emit off-gassing, although they may still have a lingering smell.
The amount of bounce in a mattress can have a significant impact on how easy it is to get around. Foam-based plush comfort solutions have the potential to limit movement and make sleepers feel constrained. Because of this, it is tough to move around. Those who sleep on latex mattresses are less likely to feel like they're suffocating. It's easy to change positions on a mattress with a springy support core because to the springiness of the coils. When a person sleeps in a variety of positions, this is an important factor.
Support for the Edge Sleeping or sitting on the edge of the bed can be supported by the mattress's perimeter. Reinforced perimeters are used in mattresses with strong edge support. Getting in and out of bed is made easier, and the mattress' supporting surface area is increased for individuals who share a bed, too. In the long run, an unsupported mattress may sag at the edges.
DreamCloud
[table]
| | | |
| --- | --- | --- |
| | DreamCloud Mattress | DreamCloud Premier |
| Firmness | Medium Firm (6) | Medium Firm (6) |
| Durability | 3/5 | 3/5 |
| Motion Isolation | 4/5 | 4/5 |
| Sex | 3/5 | 4/5 |
| Sleeps Cool | 4/5 | 4/5 |
| Pressure Relief | 4/5 | 4/5 |
| Off-Gassing | 3/5 | 3/5 |
| Ease of Movement | 4/5 | 3/5 |
| Edge Support | 3/5 | 4/5 |
[/table]
Puffy
[table]
| | | | | | |
| --- | --- | --- | --- | --- | --- |
| | Puffy Mattress | Puffy Lux | Puffy Royal | Puffy Lux Hybrid | Puffy Royal Hybrid |
| Firmness | Medium (5) | Medium (5) | Medium (5) | Medium (5) | Medium (5) |
| Durability | 3/5 | 3/5 | 3/5 | 3/5 | 3/5 |
| Motion Isolation | 5/5 | 5/5 | 5/5 | 4/5 | 4/5 |
| Sex | 2/5 | 2/5 | 2/5 | 3/5 | 3/5 |
| Sleeps Cool | 2/5 | 2/5 | 3/5 | 3/5 | 3/5 |
| Pressure Relief | 4/5 | 4/5 | 4/5 | 4/5 | 4/5 |
| Off-Gassing | 3/5 | 3/5 | 3/5 | 3/5 | 3/5 |
| Ease of Movement | 2/5 | 3/5 | 2/5 | 3/5 | 3/5 |
| Edge Support | 3/5 | 3/5 | 2/5 | 3/5 | 3/5 |
[/table]
In-Depth Pricing
Inexperienced mattress buyers may not know what to expect when it comes to cost. Mattresses come in a wide range of price points, with many falling somewhere in between.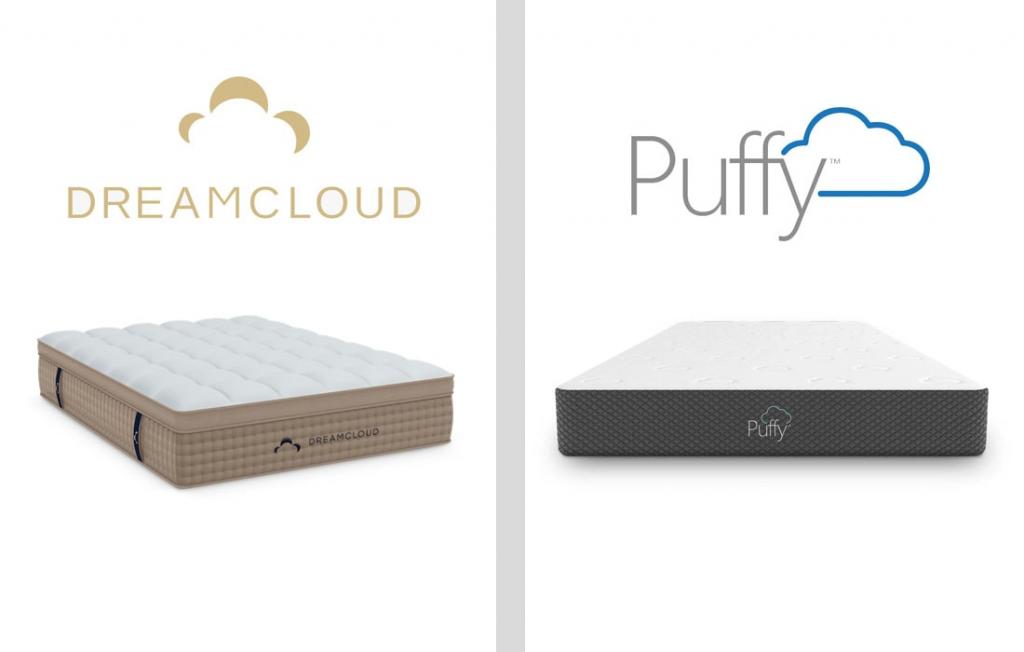 Quality materials, complexity of manufacturing, and additional features can all be reflected in a mattress's price. Mattresses with numerous layers and high-quality materials tend to be more expensive. Some mattresses have unique qualities, such as adjustable firmness levels and cooling properties, which can significantly raise the price. As a result, buyers don't need the most expensive mattress to enjoy a good night's sleep.
Many mattress manufacturers are able to provide lower costs because they only sell their products online and ship straight to customers. Because of lower overhead costs, these enterprises have a lower retail markup. In addition, there are regularly discounts and special offers. Mattresses are rarely sold at full price to consumers.
Trial, Warranty, and Delivery
Shipping
Customers who buy a mattress online should think about the time it takes to complete and ship their order. One to two weeks may be required for shipping after an order is placed. White-glove delivery or foreign shipping may necessitate additional time.
The majority of companies provide free basic shipping, often inside the contiguous United States. It's common for companies who offer worldwide shipping to impose additional fees for Alaska and Hawaii deliveries. The cost of White Glove delivery and the removal of an old mattress is sometimes included in the price of a mattress.
It is common practice to compress and ship mattress-in-a-box beds. Allows the mattress to be delivered directly to the customer's door. Deliveries that feature White Glove service include a delivery staff that sets up and removes the old mattress, if necessary. Orders mailed to Hawaii and Alaska are usually shipped through freight.
DreamCloud Shipping
In the contiguous United States, DreamCloud provides free standard shipping. Shipments to Alaska and Hawaii incur a $150 delivery fee. It costs $149 for White Glove delivery, which includes old mattress removal for an additional $20. Shipping to countries outside of the United States is not possible at this time. Five to seven business days is the typical delivery time for orders Vacuum-sealed and compressed mattresses are available.
Puffy Shipping
Puffy offers free delivery inside the 48 contiguous states. Orders delivered to Alaska and Hawaii are subject to an extra shipping fee. International shipping and White Glove delivery are currently unavailable. Mattresses are compacted and transported in a box within two to five business days.
Returns
There are certain companies that charge a restocking or transportation fee for mattress returns, but the majority of the time, they are completely free. In most cases, clients can test out the mattress in their own homes before making a purchase. Typically, if the consumer decides to return their mattress, the company will assist with the pickup and return, donation, or recycling of the mattress. It is unnecessary for consumers to keep the original packaging of a mattress in a box because the mattress cannot be compacted again after it has inflated.
DreamCloud Returns
For the first 30 days following delivery of your DreamCloud mattress, you may try it risk-free for a full 365 nights. Consumers are given a 30-day period to get used to their new mattress before they can begin the return process. The cost of returning an item is non-existent. The mattress is picked up by DreamCloud and either donated or disposed of. A complete refund is given to the consumer.
Puffy Returns
With a 101-night sleep trial, Puffy mattresses come with 14 days of adjustment time before a return may be made. The mattress can be returned for a full refund, and the company will handle the donation or recycling of the product. A complete refund is given to the consumer.
Warranties
When a mattress is defective, a warranty covers the cost of repair or replacement. Material and manufacturing faults, such as deep impressions, splits or cracks in the mattress, and other issues that aren't caused by incorrect use, are often covered by warranties. Normal wear and tear is typically not covered.
Compare warranty coverage by looking at the warranty period, eligibility restrictions, and claims procedure.. Ten-year warranties are common on most mattress warranties. In some cases, the consumer may be responsible for transportation charges, which can be limited or prorated.
DreamCloud Warranty
Both of DreamCloud's mattresses come with a lifetime warranty. DreamCloud will repair a faulty mattress for free for the first ten years. Ten years after purchase, the firm will either repair or replace your mattress. If a problem is confirmed, the purchaser is responsible for a $50 freight charge each way.
Defects and indentations more than 1.5 inches are covered by DreamCloud's warranty. To be eligible, the mattress must be used on a firm, solid surface.
Puffy Warranty
Lifetime warranty: Puffy also has this option available. If a problem emerges, the company will replace the mattress free of charge. It's completely free to use for the customer.
If the zipper breaks or the fabric cover tears or unravels, the warranty will cover such issues. Using the mattress on the wrong foundation can lead to serious health complications.
DreamCloud vs. Puffy Review Video
[youtube url="https://www.youtube.com/watch?v=N7mUbaTMiS0″ width="600″ height="400″ responsive="yes" autoplay="no" mute="no"]
DreamCloud Feel And Firmness
In terms of firmness, DreamCloud Premier is in the middle to the firm range. When compared to Puffy and the flagship, this mattress has a medium firmness profile.
While both DreamCloud mattresses are likely to be suitable for all sleepers, the entry-level DreamCloud mattress is better suited for side sleepers, compared to the DreamCloud Premier for stomach and back sleepers.
Is DreamCloud A Good Mattress For Couples?
Three things to keep in mind if you share a bed with someone. Isolation from movement and edge support, as well as temperature control are all variables to consider.
Motion Isolation
In the DreamCloud Premier, there is some bounce because of the coils. In terms of motion isolation, the DreamCloud Premier mattress is somewhere between average and above-average.
Edge Support
Solid edge support can be found on both the DreamCloud and DreamCloud Premier mattresses. If you sleep around the perimeter of the bed, the bed's edges hold up quite well.
Temperature Regulation
There is a considerable amount of airflow in the DreamCloud Premier, yet it isn't a hot bed to sleep on. The DreamCloud Premier is a mattress that can be described as neutral in temperature.
Puffy Feel And Firmness
Generally speaking, Puffy falls between between a medium and a medium+ on our softness/firmness scale. It's suitable for a variety of sleeping positions. Puffy and all other beds will appear softer to someone who is heavier. The tiny will say both beds are firmer than the larger ones.
There is some alleviation from pressure but not so much that you lose your sense of support. The Puffy mattress should work well for those of average height and weight.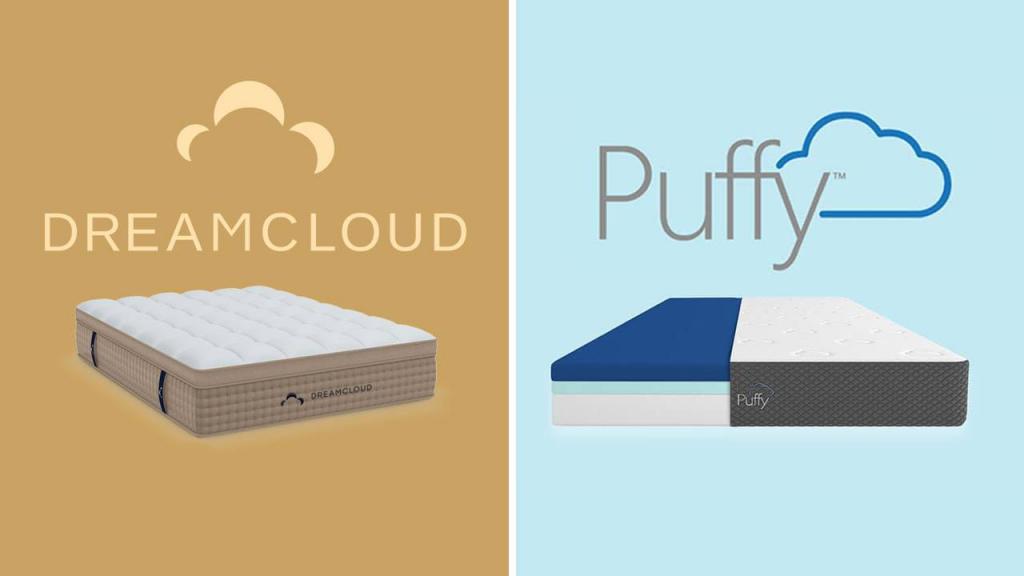 Is Puffy A Good Mattress For Couples?
Motion isolation, edge support, and temperature regulation are all factors to consider when determining if Puffy is an excellent mattress for couples.
Motion Isolation
Puffy, like most all-foam mattresses, is excellent at isolating motion. You should be able to continue to sleep even if your companion is apprehensive about falling asleep.
Edge Support
Puffy's edges are well-supported. A partner who takes up more than her fair share of the bed should be aware of this. To prevent you from falling off the side of the bed, Puffy's edge support.
Temperature Regulation
Because it is made of memory foam, the Puffy mattress tends to be warm to the touch. However, we found the Puffy mattress to be more temperature-neutral in our testing. That means it doesn't become too hot or too cold as it sleeps.
Puffy vs. DreamCloud Sleeper Analysis
The Puffy or DreamCloud mattress may be better suited to your sleeping style.
Side Sleepers
Compared to the DreamCloud mattress, the Puffy mattress's top layer functions like memory foam and is more suited for side sleepers. If you sleep on your side, try the DreamCloud Hybrid mattress. Check out our list of the best mattresses for side sleepers for additional information.
Back And Stomach Sleepers
The DreamCloud Premier is a fantastic mattress for back and stomach sleepers because it is a supportive hybrid mattress.
Combination Sleepers
For all sorts of sleepers, both Puffy and DreamCloud have received great marks from reviewers. It's easy to switch positions when sleeping on the DreamCloud mattress because of its responsiveness. The Puffy mattress is ideal for those who sleep in a variety of positions.