Do you think your mattress isn't providing enough support? The quality of a mattress is directly related to the quality of its base. Box springs and slats are the most common mattress foundations.
Despite the fact that they both serve the similar purpose—to support your mattress from the bottom—they both have their own advantages and disadvantages. What's the difference between a box spring and slats?
Here, we'll go over the distinctions between these items, as well as who they're most suited for and why, so you can make an informed decision about which base is best for your needs.
The Higher The Better?
In addition to personal taste, the height of a bed can have an impact on the quality of one's sleep. If you're unable to get a good night's sleep because your bed is too high, this could make it even more difficult. Some people find it more comfortable to sleep on their backs rather than their stomachs.
However, there are a number of important considerations to keep in mind. A bed that's too low or too high may make it difficult to get out of if you're elderly. Changing sheets on a lower bed could strain your back because you'll have to bend down deeper, which could put a pressure on your back.
What are Bed Slats?
Structural support for a mattress on a platform bed is provided by bed slats, horizontal boards of wood or metal. Typically, they are spaced around 2-3 inches apart to distribute the mattress's weight equally. For a queen-sized bed, one or two rows of planks may be placed next to each other.
The boards are available in either regular or sprung configurations. Planks that have been sprung are curved and have more give for movement than planks that have been flattened. It is better to use standard planks for individuals who prefer firmness, while springs are best for those who prefer more supple support.
What Are Slats Most Suited For?
Back, stomach, and side sleepers are all likely to benefit from slats if they are paired with the correct mattress. Standard planks are a wonderful option for stomach sleepers, who want firmer surfaces. Hot sleepers will benefit from these boards as well, since they increase air circulation, allowing them to remain comfortable throughout the night.
Pros and Cons of Slats
We'll now discuss the advantages and disadvantages of employing slats as a bed's base.
Slats Benefits
Slats are a fantastic choice for consumers on a budget because they are less expensive than other types of bedding foundations because of the reduced amount of material they require.
These planks are well-known for their strength and long-term usability, despite their relatively light weight. If you move regularly or plan on doing so in the near future, these should be easy to construct and transport because of their lightweight design.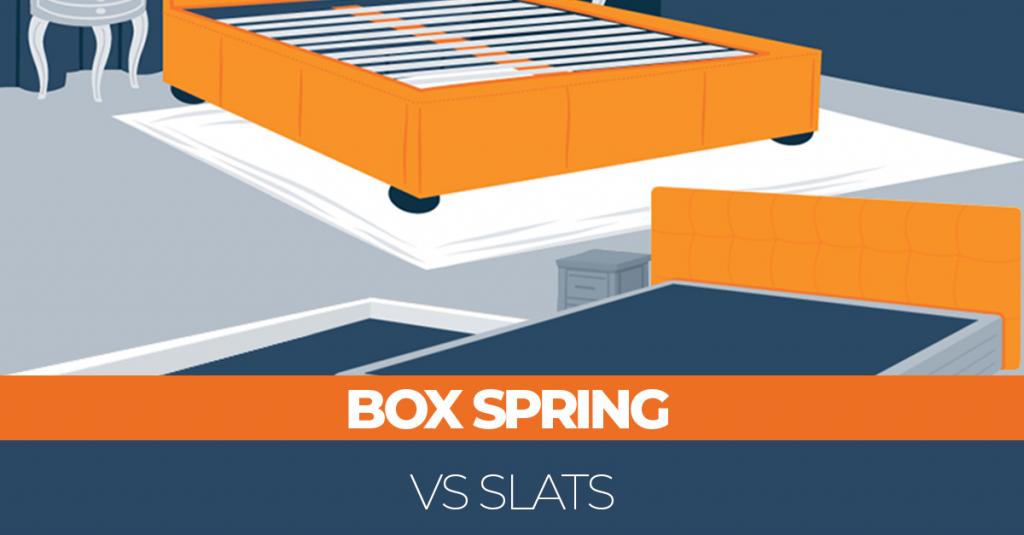 Slats Downsides
Planks may sag if they are set more than three inches apart, which is one of the drawbacks. Because of this, it's important to think about the type of mattress you have. Memory foam, for example, may be more prone to sinking through the gaps between planks because of its body-contouring properties.
If the boards aren't correctly fastened, they could fall or slide throughout the night, which could cause an accident.
What are Box Springs?
Other options for the base of your mattress include box springs, which are fabric-covered platforms installed directly beneath your mattress. Wood or metal may be used to make these objects.
Many of the more recent variants of this product do not have the traditional coil springs and instead are hollow inside. When pushed against the coils of an innerspring mattress, springs provide support. Several modern springs are equipped with wheels for easy transportation.
What Are Box Springs Most Suited For?
It's up to you whether or not you want to go with this type of foundation. This product can be used by back, side, and stomach sleepers with the correct mattress.
Those with back difficulties may like this foundation because it's simpler to get out of and you don't have to bend over as far to change the sheets.
Pros and Cons of Box Springs
Let's now go over the benefits and drawbacks of this product so that you can make an informed decision about whether or not it is right for you.
Box Spring Benefits
Stable support for your mattress is provided by box springs, which are less prone to sagging. A slatted foundation, on the other hand, doesn't provide as much height as this product does, which is a positive for many sleepers who prefer greater height.
With an innerspring mattress on top of a standard structure with coil springs, the increased bounce might be a wonderful perk.
Box Spring Downsides
On the other hand, many objects are heavy and cumbersome to carry, which may be especially aggravating when it's time to downsize or relocate. In addition to being more expensive, these items don't have as much air circulation as planks.
Also keep in mind that some of these products may not have much storage space under your bed, and the cloth on them may be hard to clean.
Frequently Asked Questions
How much weight can bed slats hold?
When selecting what kind of foundation you require, you need also take into account your weight. Consider both your weight and the weight of your mattress to ensure that the foundation is strong enough to hold all of it.
Slatted beds can sustain up to 600 pounds, however some are only rated for 300 pounds of weight-bearing. Check the weight capacity of any slatted item you're considering acquiring before making a final decision.
Can you use a boxspring with slats?
When it comes to the foundation of your bed, you only need one of the following: a box spring or slats. A level surface between the mattress and the slats may still be preferred by certain sleepers, especially for the purpose of preventing sinking. Instead of a box spring, use a bunkie board or a piece of plywood.
A bunkie board is a flat surface that is between one and three inches thick. A variety of materials can be used to create this product, including wood, plywood, and more. Bunkie boards were originally designed to serve as a foundation for bunk beds.
How long are slats for a twin bed?
The width of a twin mattress is 38 inches. A twin-sized bed frame should have slats that are between 40 and 44 inches long. As a result, the mattress does not fit too tightly on the bed frame, allowing for bedding.
Can I use plywood instead of a box spring?
Slats may need to be spaced no more than 2.75 inches apart depending on the sort of mattress you have. If slats are too widely apart, for example, memory foam beds might deform and become damaged. It's possible to keep your mattress from sinking by placing a 1-inch moisture-resistant plywood piece on top of the slats of your bed.
Like a bunk bed, a bunkie board provides the same function. They are commonly made of wood, plywood, or particleboard and range in thickness from 1 to 3 inches. It doesn't matter what style of bed frame or foundation your mattress lies on, a bunky board provides a stable and supportive basis.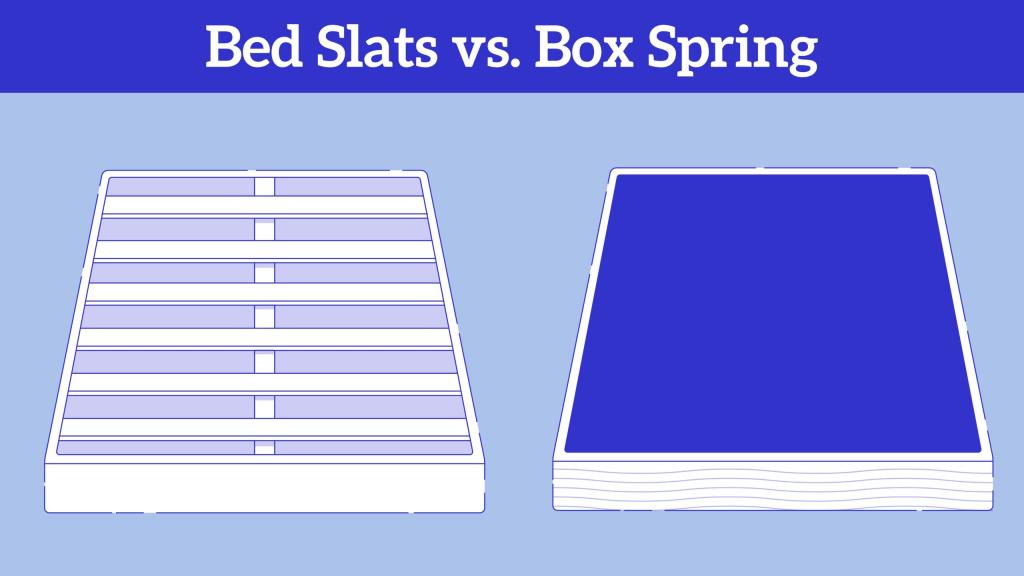 How much weight can bed slats hold?
Up to 600 lbs. can be supported by most modern bed frames that have slats in the foundation. Be cautious to check the manufacturer's weight limit before purchasing, as some are only meant to hold 300 pounds.
Is it bad to put a mattress on the floor?
Place your mattress on the floor to get a solid foundation. It's not recommended by most experts, though, because it can accumulate dust, filth, and bacteria in the mattress. In a humid area, moisture can build up and cause mildew and mold. Having hardwood flooring makes this even more important. Exposure to these pollutants can have major consequences for your health over time.
How many bed slats do I need for a full size bed?
Double beds, or full-size mattresses, are 54 inches broad. Between 56 and 60 inches in length, the slats on most full-size bed frames. A standard mattress has 2 to 6 inches of slats above and below the mattress surface.
How much weight can bed slats hold?
Slatted-based modern bed frames may sustain up to 600 pounds. However, some slatted foundations are only capable of supporting 300 pounds. The manufacturer's weight limit should be checked before purchasing. The weight of a mattress is also a significant consideration.
Should I use metal or wood slats?
However, wooden slats may not give the ideal support for your bed. With the weight of a mattress and a person resting on it, metal slats are a better option than wood slats. Metal slats, on the other hand, are less likely to flex or shatter than wooden ones.
Can I use a box spring with a latex or memory foam mattress?
We advise against using a box spring with a latex or memory foam mattress. For latex and memory foam mattresses, box springs do not provide adequate support. In addition, the mattress's weight may cause the springs to bow. Slatted or sturdy foundations, as well as platform beds, are superior solutions for foam beds.
Can you buy slats for a bed frame?
You can buy slats for your bed frame individually. Bed slats are ideal for those seeking a low-cost mattress support system. You don't need a box spring if you buy a bed slat system and put it on top of your bed frame.
Do bed slats break easily?
Some slatted foundations are prone to breaking if they are overloaded. It is possible to bend the slats of your mattress if you put too much weight on one slat or part of the bed. Before investing in a mattress foundation, make sure your product's weight requirements are met.
Conclusion
The components of the mattress are important when deciding whether to buy slats or the box spring. The benefits and cons of each product are unique. As an example, slatted bedding may be more enticing to you at a lower price point, but its height may not be.
It's also important to take into account the kind of mattress you have. It's possible to sink into your memory foam mattress without a bunkie board, which is designed to keep the mattress from sagging.
You should be able to pick the ideal foundation for your sleeping and living demands after evaluating the capabilities of each of these items.