A good night's sleep isn't complete without a good mattress and pillows, but you should never forget about the sheets. After all, nobody likes to waste time tossing and turning in scratchy, rigid sheets when they should be sleeping.) Now comes the conundrum: there are far too many choices. Making a purchase as basic as bedsheets can be an uphill battle when there are so many different options in terms of brand names, materials, and pricing points.If you've ever wondered what the best mattress material is or whether or not thread count actually matters, help is at hand. Everything you need to know about how to buy sheets with confidence is laid out for you here.
Before You Buy
Because sheets are such an important part of one's daily routine, they should be purchased with care and attention to detail. However, you must first estimate the size of the top sheet you require before doing any material research or considering the benefits and drawbacks of different options. A person's bed is proportional to the size of his or her mattress. (Translation? If you have a twin mattress, you'll need twin sheets. If you have a full mattress, you'll need full sheets.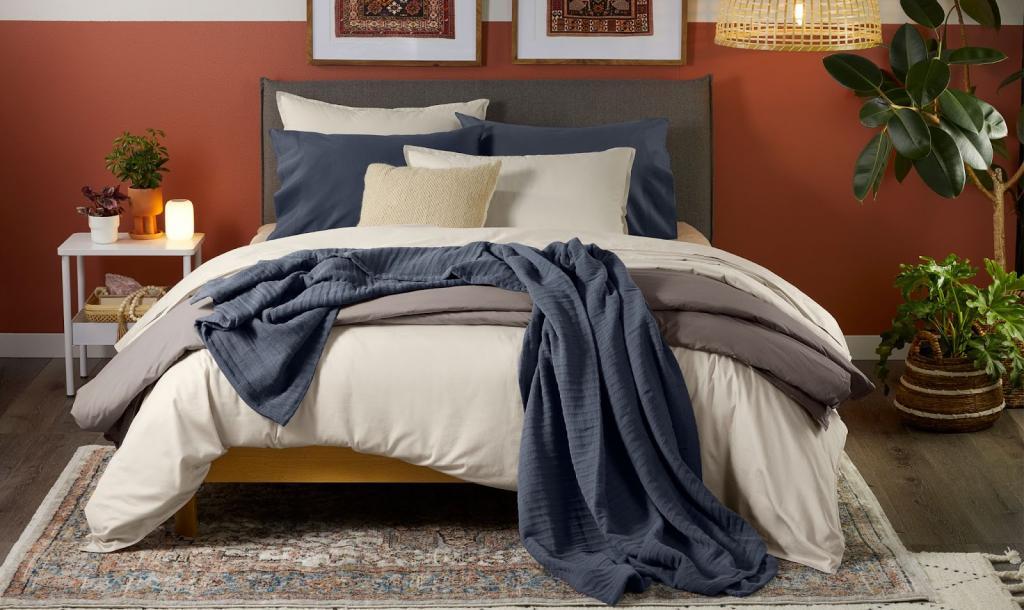 But if it has been a long time since you purchased new sheets or a mattress, you may be in need of a refresher. To be on the safe side, it never hurts to have another look at your mattress' dimensions. Taking measurements of your mattress's breadth and length will help you determine its proper size. A twin mattress is 38 inches by 75 inches, while a twin XL mattress is 38 inches by 80 inches. Full mattresses are 54 inches by 75 inches, queen mattresses are 60 inches by 80 inches, and king mattresses are 76 inches by 80 inches. California king beds are 72 by 84 inches.
When it comes to bedding, it's best to have a snug fit. Even if you bought the correct size, it's likely you made a mistake if your sheets are too loose or won't fit over your mattress' four corners. (Don't be alarmed, it occurs! ) If you're looking for twin, twin XL, king, or California king bedding, be sure to double-check your size before adding to your cart.)
Considerations for Buying Sheets
Material
Because you'll be sleeping on them for hours at a time, you'll want to buy a set that's soft and comfortable. That's why it's so important to pick the correct kind of material. Percale, sateen, microfiber, linen, flannel, and silk are just a few of the materials available for sheets, but each has its own set of advantages and disadvantages. In addition to your own preferences, you should consider the season and the temperature at which you sleep when making this decision.
Linen and percale are good options for those who sleep hot, while heavier fabrics like flannel and sateen are better for those who sleep cold.
Thread Count
Until recently, thread count was the only way to tell if a set of sheets was good or bad. The higher the thread count, the better the quality, according to the thinking of the time. The notion has been dispelled in recent years by both bedding manufacturers and specialists. As it turns out, thread count isn't all that essential.
The quick shift is puzzling. In order to increase the thread count, some brands will use numerous, thinner yarns that are twisted together. It is common to refer to these two-ply threads as two-ply. Although these yarns are more pliable, they are not as durable as a single-ply yarn. When thread count is all that matters, the quality of the yarn is overlooked.
In the past, Jacob Andsager of The Modern Dane told The Spruce that "an 800-thread count sheet made from two-ply, thinner threads may well be lower quality than typical single-ply 400 thread count sheets." A thread count of 400 is the upper limit at which a quality difference may be noticed, and anything higher than that should raise red flags.
Quality of Material
As an alternative, do your homework and opt for long-lasting textiles. There is a good chance that bedding with a single-ply weave will last longer than that with a high thread count, depending on the manufacturer.
GOTS and OEKO-TEX-certified sheets are available from a number of companies, so if you're concerned about the environment, you'll be pleased to know that numerous sheets are available. A company's eco-friendly initiatives will be prominently shown on its website or packaging, as this is a common practice among businesses.
Style
Although your comfort is paramount, you should also pay attention to how your sheets look. The good news is that bed linens come in a variety of colors and patterns, so you can pick something that suits your own style. Is there anything more classic than solid color sheets when you're seeking for bedding? A vibrant color or eye-catching print, such as stripes, checks, or florals, can liven things up a bit.
Types of Sheets
Percale
There's a good reason why percale is such a popular choice for bedding. Using combed and carded cotton yarn, percale has a one-over / one under weave. What's the end result? These sheets are lightweight and crisp, making them ideal for the warmer months and those who sleep overheated. As a fan of button-down shirts that have just been pressed from top to bottom, this is the material for you.)
Sateen
Choose sateen sheets if you want your bed to have a luxurious sheen. The four-over-one-under weave gives this material a buttery-smooth hand and a somewhat shiny sheen. You can use sateen sheets throughout the transitional seasons of spring and fall because they are a little heavier than percale.
Linen
Look no further for an ingenious way to cool down. There's no better fabric for a summer wardrobe than linen. As a result of its composition, this flax-based fabric is both light and airy.
Silk
Silk is often associated with opulence, but there's more to this expensive fabric than just its silky feel. Silk has been shown in studies to reduce friction on the skin and hair, hence reducing the appearance of wrinkles, acne, and other fine lines on the skin and hair. Even if silk pillowcases are more common than flat and fitted sheets, I hope that velvety rest becomes the norm.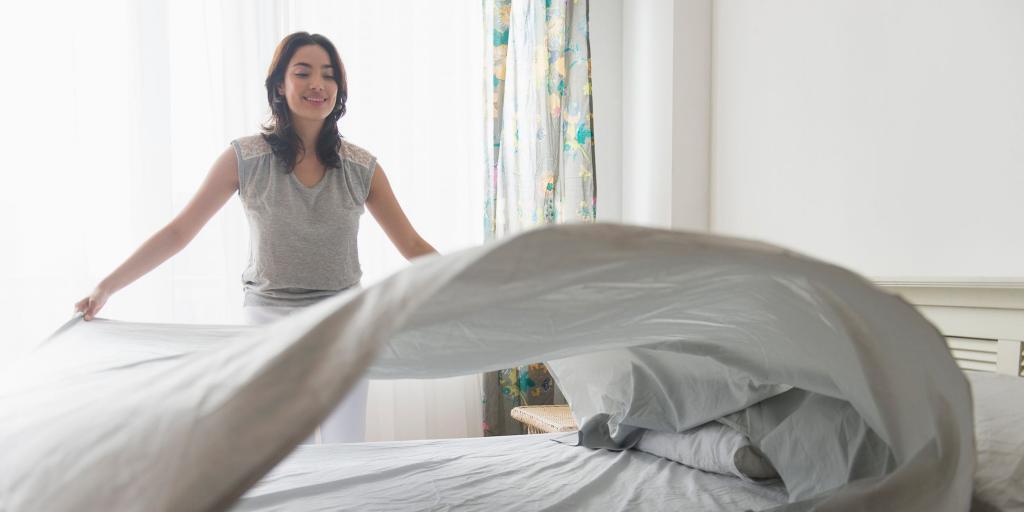 Microfiber
Microfiber sheets, created from man-made fibers, are unbelievably silky and almost wrinkle-proof. This thick, tightly woven fabric is ideal for those chilly winter nights because of its ability to insulate.
Flannel
In the same way that linen is the unofficial summer fabric, flannel will keep you warm through the cold months. Flannel is a great alternative for someone who sleeps cold, as it is often made of medium- to heavy-weight cotton. One more reason to adore this selection? Because of the double-napped finish, it will be extremely soft to the touch.
Cost of Sheets
A nice set of sheets might cost anywhere from $50-$100 per bed. To a certain extent, it's all a matter of budget. Fortunately, wonderful linens can be found at all price ranges. High-end companies might charge hundreds of dollars for a single set of bedding, while mass shops can sell bedding for as low as $20. As a result of the influx of direct-to-consumer brands, you can get high-quality sheets without paying the retail markup. You have a lot of options here, so pick one that's within your price range.
What Does Thread Count Mean (And Why Isn't Highest Always the Best)?
The number of threads per square inch, including horizontal and vertical, is referred to as the "thread count." Higher thread counts tend to be softer and more durable, as well as softening with use and exposure to air. Generally speaking, the best sheets fall somewhere between 200 and 800, but you'll occasionally encounter sheets with more than 1,000. Even methods like utilizing numerous yarns twisted together to inflate the thread count don't actually improve the fabric's hand and may even detract from its quality. Astronomical thread counts don't definitely guarantee superior sheets.
You shouldn't assume that a lower thread count indicates worse quality sheets. According to Symmes, certain 200-count cotton sheets "are finished really neatly and truly feel like they have a greater thread count." "More mechanical finishings are employed now than chemical finishings, giving a beautiful hand and performance." Choosing a well-known brand's 200-count combed cotton sets can save you money because they are more likely to meet high certification standards for their finishing operations.
Symmes prefers a combed cotton sheet with a thread count of between 300 and 400.
Microfiber sheets, which are constructed of incredibly fine polyester strands, are both inexpensive and comfortable, and they are more resistant to pilling than standard polyester sheets. Polyester, on the other hand, is less permeable to moisture than cotton, making it an unwise choice for people with sensitive skin.
Cheap and airy, cotton jersey sheets are knit, not woven, like most other bed linens. In terms of comfort, jersey sheets may be just what you're looking for if you prefer to sleep on a soft old T-shirt.
Because microfiber and jersey aren't made of cotton, they lack the cold crispness of woven cotton, so you'd be better off shopping for an inexpensive cotton percale.
How to choose the right set for your bed
If you take excellent care of your linens, they can last anywhere from five to ten years. However, after a few years, you won't want to keep them if they don't fit your bed well or begin to appear dirty. Before purchasing a set, here are some things to keep in mind.
Fit
Before you buy a new mattress, make sure you know the dimensions of your current one. In the case of an extremely thick mattress, such as one that has a pillow topper or a separate topper, you may require sheets labeled "deep" or "extra deep" to accommodate it. It's common for some sheet brands to offer depth measurements, while others don't. Because of this, there can be no assurance that the bottom sheet will fit (short of doing a bit of extra legwork with customer service and asking about the depth). Buying from a company with an accommodating return policy is a win-win situation for both parties.
You'll need a little tug to get the correct fitted sheet in position on your mattress. The pocket—the squared-off seam at each corner—shouldn't be a source of contention when trying to pull it over your mattress. Extra slack in the corners helps the fitted sheets stay in place, so make sure yours have at least two or three inches more pocket depth than your mattress.
Color/pattern
With the right sheets, you can add a splash of color or design to your bed without breaking the bank. As a cautionary note, keep in mind that vividly colored sheets may be more difficult to maintain than white sheets that can be bleached or treated with OxiClean. These more severe cleaning procedures will make it more difficult to remove stains caused by children, sweat, periods, or bedtime food. Because benzoyl peroxide can bleach the fabric, you may want to consider white or light-colored linens (at least pillowcases) if you use acne cream. White or solid-colored sheets will always appear newer than those with patterns, especially those with a lot of contrast, which we have found to wear out more quickly.
A complete set vs a collection of distinct pieces
Purchasing a set can save you money. Pillowcases, fitted and flat sheets, and other linens can be had for less money if you buy in bulk. Brands that offer separate top and bottom sheets are, nevertheless, sensible. Instead of constructing a standard two-sheet bed, many people these days prefer to sleep without a top sheet and instead use a washable duvet cover.
Because bottom sheets bear the weight of your body as you sleep, they tend to wear out differently than top sheets (the harder job by far). Over time, our research and testing have shown that linen fitted sheets are particularly susceptible to wearing out. With percale or sateen sheets, if you or your sleeping partner have rough feet, this may be an issue as well. It's more convenient to be able to replace a single soiled sheet rather than having to purchase a whole set. Pillowcases may also need to be replaced more frequently. Stains and wear may occur more quickly because of their proximity to your face. Alternatively, you might purchase a couple extra sets of sheets so you may wash them less frequently but still have a fresh set of linens.
What's the best thread count for sheets?
However, the number of vertical and horizontal threads in one square inch of fabric is not a reliable measure for fabric quality. The finer the yarn, the higher the threads per inch, and thus the greater the number of threads that can be woven into the square to produce a strong but smooth fabric. As previously stated, good-quality fabrics should have a thread count of 200 to 300 for percale, 300 to 600 for sateen, and 80 to 120 for linen. Higher thread counts, especially with sateen, should be avoided. It's common for producers to double the thread count of two-ply yarn, which is when two distinct threads are twisted together. For this reason, sheets with thread counts of 800, 1,000, or even more may be promoted. When two threads are woven together in a thicker, two-ply yarn, the result is different than when the threads are woven separately. Two-ply yarn has a coarser feel than three-ply yarn, and three-ply yarn has a softer feel than two-ply yarn.
What about organic or "eco-friendly" bedding?
Sheets made from organic cotton or those with certain certifications may be worth looking at if you're concerned about environmental effect. However, keep in mind that you may not acquire a superior set of sheets. It's difficult to cultivate long-staple cotton without the use of insecticides, herbicides, and fertilizers, because cotton crops require a lot of water and are highly susceptible to pests (although organic versions of these substances also exist). To get the best of both worlds, you may or may not be prepared to compromise on the quality of the cloth by using shorter cotton strands.
Cotton, regardless of whether it was cultivated commercially or organically, is subjected to a multitude of processes during its journey from the farm to the fabric. Bleaching, mercerization (treatment with sodium hydroxide to improve luster), dyeing, and starching are all examples of these. New sheets should be washed before first use to get rid of most of these extra contaminants. Formaldehyde-based resins, such as urea, are typically used to maintain sheets wrinkle free or iron-free over the long-term if they appear on the label as "wrinkle-free" or "no-iron." After washing, these treatments may still be present on the cloth and cause irritation to certain people's skin.
The Global Organic Textile Certification (GOTS) or the Oeko-Tex certification are good options if you wish to avoid synthetic ingredients and promote organic farming. Toxic metals and certain solvents are not allowed in the processing of the cotton that bears the GOTS mark, and the amount of water and energy used during production is closely monitored. GOTS is a third-party certifier. Oeko-Tex textiles aren't always organic, but they are certified to be free of potentially dangerous compounds for humans and the environment, such as formaldehyde, plasticizers, and heavy metals, following comprehensive testing (to name a few).
More bedding basics
For a nice night's sleep, it's not enough to have soft, silky bedding. We've found and examined a slew of additional must-haves for a comfortable sleeping environment.
If you wake up with aches and pains or a lack of energy, it's possible that your present mattress isn't properly supporting your body. If you're having trouble sleeping, consider investing in a new mattress. A total of 29 members of our staff tested a total of 17 different mattresses from over 40 different online mattress companies. Side sleepers, stomach sleepers, and back sleepers all have options to consider. It can take up to a month or more for your body to adapt to a new mattress, therefore easy returns are critical.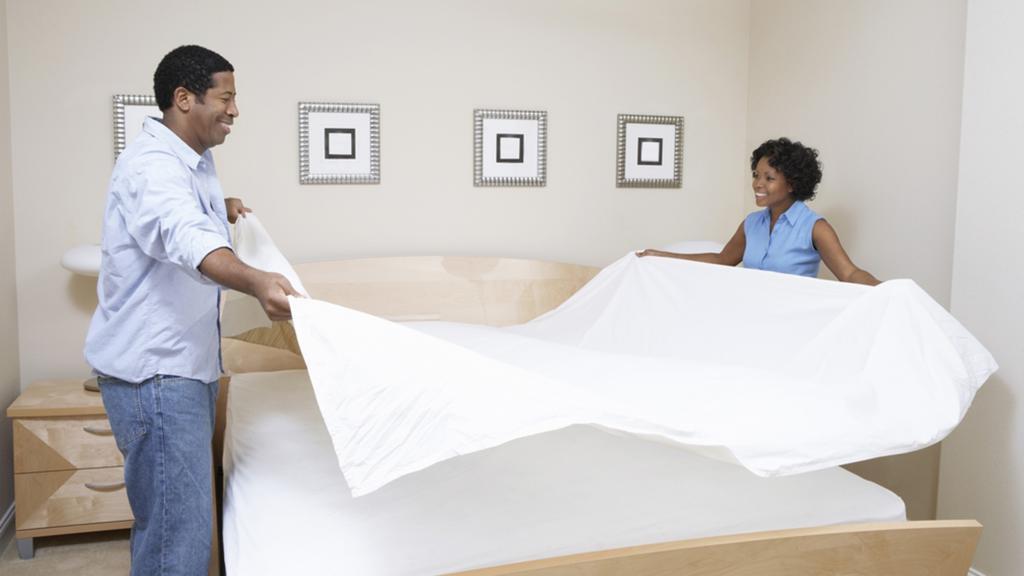 Poor sleep might be exacerbated by clumpy, flattened, or overly high pillows. Your preferred sleeping position has a lot to do with which pillow is best for you, just as it does with which mattress. Many stomach-sleepers need less neck support than those who sleep on their sides or backs. We've tried a wide variety of pillows and have recommendations for a wide range of types.
Consider a down (or alternative down) comforter if you sleep cold at night.
It took us months of testing over a hundred to get the perfect combination of warmth and lightness at a reasonable price. It is possible to repair a down comforter if the down has been irregularly distributed. However, you should keep in mind that repairing your comforter may end up costing more than simply purchasing a new one.
Because you can wash the duvet, you'll be able to keep your comforter cleaner for longer, and it's an easy method to change the look of your bed. Using a range of fabrics, we narrowed our search for the perfect duvet cover down to eight.
FAQs
What is the most luxurious bedding?
To offer the greatest sleep experience, the best materials are used in luxury bedding. Long-staple cotton fibers are spun into high-quality yarns to create the finest luxury sheets. The long-staple strands of Egyptian cotton are essential for a rich feel and lasting comfort.
Are luxury linens worth it?
Luxury linens are worth every penny once you've tried them. In order to provide you with years of restful relaxation, we at Peacock Alley only sell the highest quality high-end bedding.
What are the most luxurious sheets in the world?
Extra-long-staple cotton in a sateen weave makes a great luxury bedding set. Extra-long staple cotton sheets with thread counts between 420 and 600 are the most luxurious and comfortable bedding option. Made in India, Portugal and Italy are Peacock Alley's Emily Egyptian Cotton Sheet Set, Soprano Sateen Sheet Set and Virtuaso Sateen Sheet Sets.
What Thread Count is Best for Sheets?
Counting threads refers to the number of horizontal and vertical threads in a square inch of cloth. The higher the thread count, the better the fabric, but this isn't always the case. Higher thread counts per inch are taken to mean finer yarn, according to the reasoning behind thread count measurements. This implies that more yarn can be packed into a square inch of cloth, resulting in a smooth and robust weave.
Percale sheets should have a thread count between 200 and 300, sateen sheets between 300 and 600, and linen sheets between 80 and 120.
Thread counts can be increased to make sheets appear better quality than they really are, though.. Some producers, for example, count both threads in a two-ply yarn, which is actually two distinct threads twisted together, artificially doubling the thread count of the fabric.
How Often Should You Buy New Sheets?
If properly cared for and maintained, a high-quality set of sheets can last anywhere from five to ten years. Within two years, lower-quality sheets are likely to need to be replaced. When you discover that the sheets no longer fit snugly, or that the material has pilled or has tears, it's time to start browsing for new luxury linens for your bed. Extra sets of quality sheets for each bed in your house are a smart option if you have the funds to do so. This will make bed changes less of a hassle.
How to Choose Sheets that Fit Well?
Before you begin shopping for luxury linens, you must know the exact dimensions of your bed. In addition to knowing if you have a full, queen, or king mattress, there are other considerations to consider while determining the proper sheet size.
To ensure that your sheets are the perfect fit, make sure to measure your mattress, taking into account the depth as well. Including a mattress topper in your measurements is a good idea. However, if your bed includes a memory foam topper or an extra-thick pillow top mattress, you may need sheets that are manufactured specifically for those types of beds. To get the finest fit, look for pocketed sheets that are marked as "deep" or "extra deep." Make careful to check the dimensions on the box of your luxury sheets if they aren't labeled as such.
Do you need a top sheet?
It all depends, really. Direct-to-consumer brand Parachute discovered that 40% of Americans do not use a top sheet before they go to bed, despite the fact that this is supposed to keep your blanket or duvet cleaner for longer. Keep the duvet clean by adding a top sheet to the mix. It's quite fine if you don't like the idea of another sheet on top of your current bedding.
How do you clean sheets?
Your bedsheets are almost always machine washable, making cleanup a pleasure. Before you start the spin cycle, check the care instructions on your sheets. Cotton, for example, should be washed in hot water, while mixes and synthetic fibers can be washed in warm water, depending on the brand, and some items should be dried by hanging.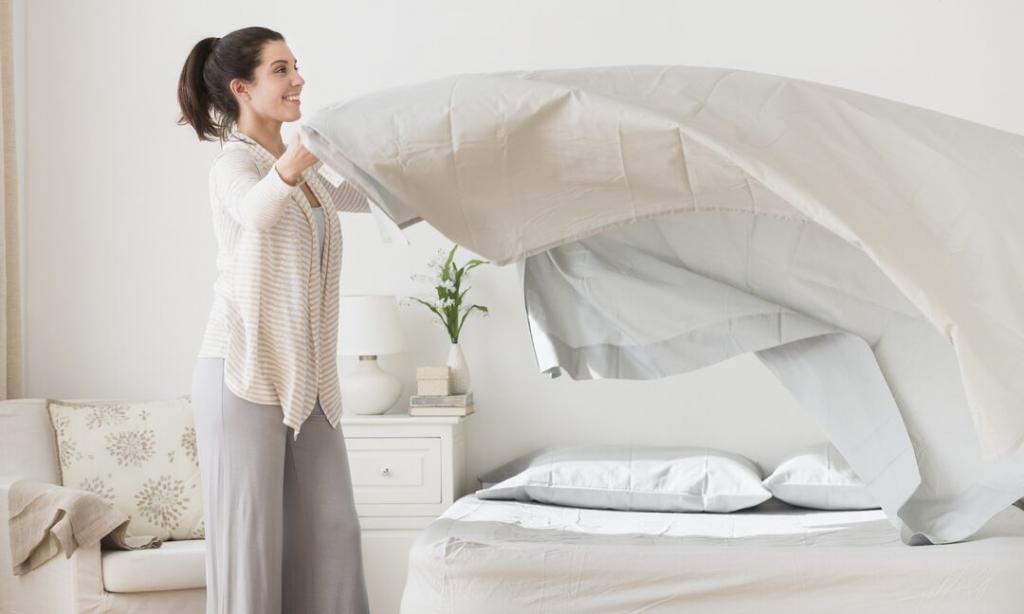 How often should you clean sheets?
Snoozers who take a shower and put on their pajamas before going to bed may usually get away with changing their bedding every two weeks. Because of allergies or snuggling with your pet, you may wish to clean them sooner. The only exceptions to this rule are if you're sick at home or have a skin condition that necessitates daily replacement.
How often should you replace your sheets?
You can keep your bedsheets for as long as you like because they don't have an expiration date. Even yet, if you use the same sheets on a regular basis, you may begin to see some signs of wear and tear after a few years. However, if you frequently change your bedding, you may wish to purchase a new pair.