Loom & Leaf (L&L) and Novosbed (Novosbed) are usually regarded as two of the best online memory foam mattresses. These two companies are highly regarded, have top-notch products, and exceptional customer service.
Depending on your sleep preferences, one or the other may be better suited than the other.
Here, we'll take a look at the significant similarities and differences between Loom & Leaf vs. Novosbed in an effort to help you make an informed selection.
Novosbed vs. Loom & Leaf
Examine these two mattresses side by side to see which one is best for you.
Key Similarities
Both are only available online.
Both have a rating of 4.8+/5 from customers.
Both have a lot to offer.
Firmness settings are available for both: Loom & Leaf has two options, whereas Novosbed has three.
Key Differences and Main Points:
Price – A Queen-size Novosbed costs $999.00, while the Loom & Leaf costs $2079.00.
Novosbed is unapologetically memory foam – As a company that actively supports sleep on memory foam, Novosbed has designed its mattress to get you as close to memory foam possible. 4 inches of pure, ultra-dense memory foam fill the mattress's cover. When you sleep on a Novosbed, you're only around 1/16 of an inch from the memory foam layer. Novosbed is the best option if you're looking for a high-end memory foam mattress.
Loom & Leaf has a loftier (thicker) cover it incorporates a layer of conventional foam to enhance bounce and airflow between the memory foam and you. Consequently, there is less of a memory foam feel with L&L. L&L, on the other hand, is a great option if you prefer less memory foam.
Novosbed Offers Comfort+ Firmness Adjustment – A "Comfort+ Kit" will be shipped to you if your Novosbed mattress is too soft or too firm. This is unique to Novosbed in the entire online mattress market. A 2″ thicker mattress may be smoothly integrated into the bed by extending the cover and adding a second comfort layer to the top. It only takes a couple of minutes to set up.
Loom & Leaf has organic cotton, Novosbed has a washable top cover – Novosbed and Loom & Leaf both include this function, however it may or may not matter to you if you're trying to decide between the two. An organic cotton cover is used by L&L. A washable and long-lasting sheet set may be more convenient for most people, but others who prefer organic cotton may find the concept more appealing.
Novosbed and Loom & Leaf use different cooling technologies – While you're dozing off, L&L uses a gel covering to keep you cool. Moisture-wicking top cover and vertical ventilation channels are used by Novosbed.. Heat was not an issue with any mattress.
Loom & Leaf offers white glove delivery, including in-home setup – Loom and Leaf provides white glove delivery and in-home setup, which costs an additional $99 and is non-refundable if you return the mattress.
Canada – Loom & Leaf's presence in Canada is extremely limited. We were the first to offer free shipping across the country for Novosbed.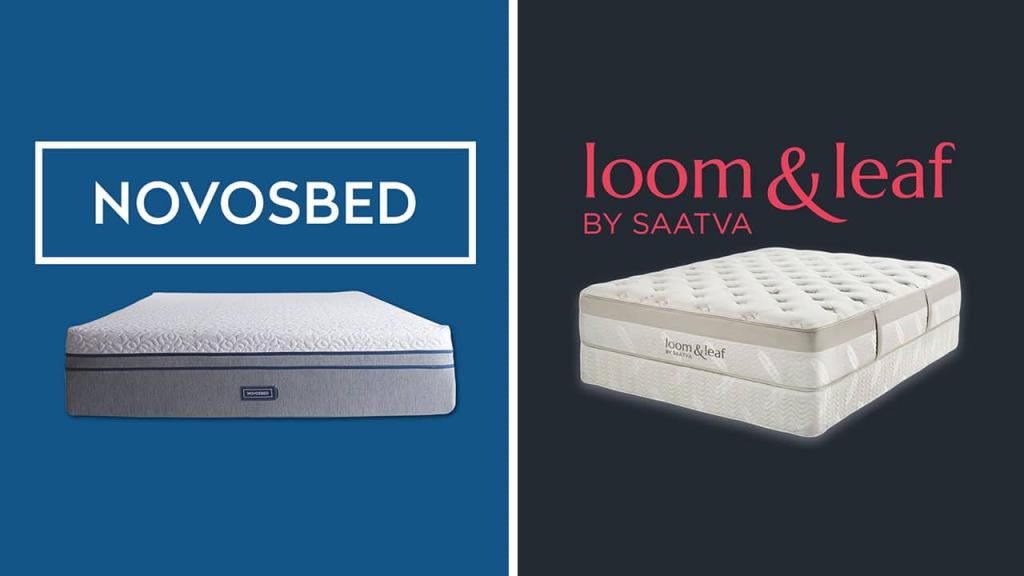 Construction Of Loom & Leaf Layers
In comparison to Novosbed's three layers of material, the Loom & Leaf mattress has five. To begin, there is a substantial 5.5″ layer of dense poly foam at the very bottom of the structure. Like Novosbed's first layer, it acts as a foundation for the rest of the mattress.
After that comes a 2″ transition loft pad, which is there to cushion you from the harsh feel of the solid poly foam slab beneath it. 2.5″ of five-pound visco-elastic memory foam makes up the third layer. This is where the majority of your pressure alleviation and support will be provided to you.
The top layer is two inches thick and contains four pounds of memory foam with a gel swirl. Because it's the material you'll be most aware of when you're lying down, this layer is mostly responsible for your comfort. It's also the part of the mattress where a laminated cooling gel sheet is placed, and its purpose is to keep the mattress from overheating.
You may be wondering how effective the cooling gel is. The material is used in hospitals to treat burn sufferers, so we'd say it's doing a good job of protecting the skin. We believe it's a major role in Loom & Leaf's ability to sleep cooler than the majority of memory foam beds.
A 58″ layer of soft foam is quilted into the bed's sumptuous organic cotton cover, in case you've been keeping track.
Loom & Leaf's superior cover is complimented by the mattress's extremely soft and warm feel.
Feel And Firmness Of A Loom & Leaf Mattress
When you consider that Loom & Leaf is made up of multiple layers of memory foam, you'll get the impression that it's deep memory foam with a pillow top. As the viscous memory foam layers conform to the shape of your body, you sink into the bed as soon as you lay down.
Relaxed Firm and Firm models are available from Loom & Leaf. In our opinion, the Relaxed Firm mattress is medium-firm, whereas Loom & Leaf's Firm mattress is on the firmer end of the spectrum.
We recommend the Relaxed Firm model if you're a side sleeper because it provides greater relaxation to your hips and shoulders than the Firm model. However, keep in mind that the Relaxed Firm model is anything but supple.
The Relaxed Firm mattress is also a good choice for back sleepers of medium height and weight because it provides ample support for smaller people. However, if you sleep on your back or stomach, we recommend the Firm model for the best support.
In order to find the right mattress, you'll need to take into account your weight, even if you only sleep on your back or stomach. Again, we believe that the Relaxed Firm mattress is the best option for those who sleep like a combination of a couch and a bed. Think about your most dominating sleeping position if you're heavier than average. The Relaxed Firm mattress is best if you sleep primarily on your side. We recommend Firm if you spend a lot of time on your back or stomach.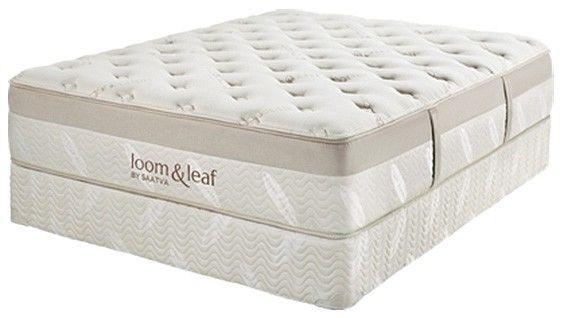 Pick Novosbed If:
You Want a Pure Memory Foam Feel – When it comes to genuine memory foam, Novosbed is the closest to it that you'll find. A Novosbed is the best option for memory foam purists.
You Aren't Sure What Firmness Level Is Right For You – When it comes to choosing the proper firmness level, Novosbed performs an excellent job. Providing a guarantee of optimal firmness is a fantastic and unique feature in the business.
You Anticipate Having The Mattress For A Long Time – Aside from that, the Novosbed's materials are extremely long-lasting. Having a mattress that you want to use for a long period of time increases the value of Novosbeds.
You are in Canada – No high-end mattress company in Canada offers free delivery and returns like Novosbed.
Pick Loom & Leaf if:
You Want a Little Less Memory Foam Feel –In comparison to Novosbed, L&L is more springy. L&L is a good option if you're not a fan of memory foam but still want a high-end mattress.
You know what firmness you need – There are two stiffness levels offered by Loom and Leaf. L&L is an alternative to Novosbed's Comfort+ if you prefer less security.
You want White Glove Delivery – L&L is the best option for white glove delivery because Novosbed does not currently offer this service.
Verdict
Is Novosbed better than Loom & Leaf? We think both mattresses are excellent memory foam beds, but which one is best for you depends on your preferences.
Yes, I'd like to have the choice of a firmer mattress. Soft is one of Novosbed's three firmness levels.
Are you a hot-sleeper? Due to its laminated cooling strip, Loom & Leaf may keep you cooler at night.
Does a machine-washable mattress cover sound like something you'd be interested in? Consider Novosbed as an option.
Are you looking for a product that is easy to get and even easier to put together? Someone from Loom & Leaf is on hand to help you assemble your mattress.
Yes, I'm concerned about the cost of my purchases. Loom & Leaf is more expensive than Novosbed.
We appreciate you visiting the Slumber Yard, and we hope we were able to help you narrow down your search for a new mattress. Other mattress comparisons and full-length reviews are also available on our site, so we encourage you to check them out.